Dental Anesthetic Needles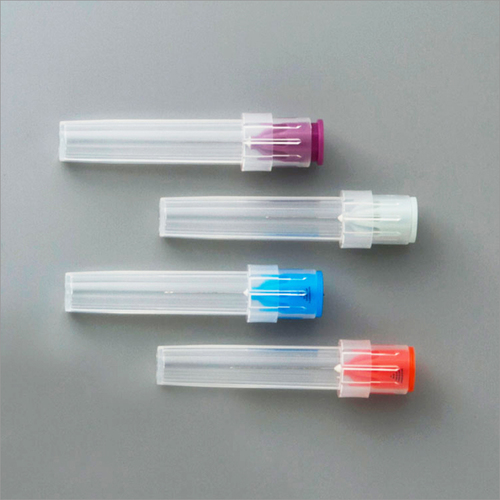 Product Details:
Equipment Type

Needle

Use Type

Single Use

Needle Material

Stainless Steel

Sterilized

Yes

Sterilization Mode

EO Gas

Disposable

Yes

Recyclable

No
Product Specifications
Yes

Yes

EO Gas

Single Use

Stainless Steel

No

Needle
Product Description
The provided Disposable Needle is constructed from stainless steel cannula. It accommodated polypropylene hub, making it non-sterile and antistatic. This needle has a blunt opening that makes the injection or vaccine administration as smooth as possible. Our Disposable Needle is extensively used by the hospitals, government medical centers, clinics, and similar institutions to maintain the hygiene and safety level. It is additionally safe to dispose. The medical institutions can purchase this needle in both small and large quantities.

Specifications :
Size: Outer Diameter(OD) and length of Needle

Hypodermic Needles: 14 Gauge to 33 Gauge, 0.2 mm to 2.1 mm for OD and 4 mm to 125 mm for length.
Dental Aesthetic Needles: 25 Gauge to 32 Gauge, 0.23 mm to 0.5 mm for OD and 12mm to 42 mm for length.
Dental Washing Needles: Closed End: 21 Gauge to 30 Gauge, 0.3 mm to 0.8 mm for OD and 23mm for length.
Open End: 27 Gauge, 0.4 mm for OD and 40 mm length.
Blunt Tip: 20 Gauge to 30 Gauge, 0.3 mm to 0.9 mm for OD and 22 mm to 40 mm for length.
Dental Resin Filling Needles: 15 Gauge to 30 Gauge, 0.3 mm to 1.8 mm for OD and 10 mm to 25 mm for length.
Aesthetic Needles: 15 Gauge to 33 Gauge, 0.18 mm to 1.8 mm for OD and 4mm to 125 mm for length.

Monthly Production Capacity: 250,000,000 Pieces Per Month
Export Market:United States, Canada, Colombia, Brazil, Mexico, United Kingdom, Germany, Italy, France, Saudi Arabia, Egypt, Nigeria, South Africa, China, Vietnam, Thailand, Taiwan, Indonesia and Australia Additionally, 80 countries in the world.
Anesthetic needles: Dental injection needles manufactured with our superior ultra-fine diameter processing technology are not only thin and sharp, but are of appropriate length and hardness to ensure precision in the work of the dentists.
Other Products in 'Medical Needles' category
Get in touch with us